An adventure solo ride by Cedric Trounson on a 2016 Royal Enfield 03 July till 10 October 2020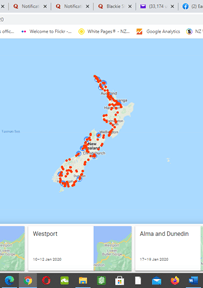 Covid changed many peoples travel plans for 2020. For my wife and I we were no exception. During our winter I was to be riding the back roads of Southern Spain on a Royal Enfield Motor Bike.
Instead of Spain, I did a mid winter challenge to visit my Sisters. I rode from Greymouth, via the highway 73 alpine passes to Oamaru where I helped my sister pack for shifting also help fit a new Diff pinion seal to her 1926 Chrysler car.so I stayed two nights. Then on to Dunedin where I have one sister and a few nieces / nephews and a brother in law who is very sick, I stayed one night,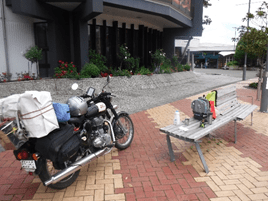 Then onto the Catlin's region where I followed in the footsteps of my father from 100 years ago as he worked in the saw mills owned by the Latta Bros, On to Edendale where I stayed in another Sister, I went to see another brother in law but he was not home. My sister lent me her car to go to Invercargill on Mon morning to get a new chain for my bike, then off to Invercargill, visited a Cousin at Sandy Point Otatara, and even from the days I went to school, by old school bus driver, then off to Riverton to stay with my sister. I rode via highway 99 to Manapouri and, staying in a tent in TeAnau, before riding to Queenstown and Wanaka. Marlene joined me at Oakridge resort Wanaka along with our son and his wife.
The weather forecast was for very heavy rain on the Coast so I returned to Oamaru to again help with the shifting then back to Greymouth via Darfield, Porters Pass and Arthurs Pass. Total distance was around 4000 Kilometres.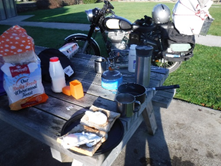 I had not long returned home from that epic journey, when the Royal Enfield Owners register announced details of their 'mid term rally' which was to be held in Tauranga. I mentioned the event to my wife Marlene, who said, 'Well you can go if you want to'.
So following a general check of prices for ferry crossing etc I was on my way 13th October, heading Greymouth to Picton and stayed in a backpackers. One of the joys of staying in Back packers is that every backpackers one can stay are so different to each other.
The ferry was next morning, reporting at 10am and departure at 11 am, except on Wednesdays, it is the changeover of crew on the ferries, so today, once I finished tying down my bike and made my way to the passenger deck, I looked out to see we had already departed the berth, it was 10.50am. With Inter Islander, one must provide our own tie down straps.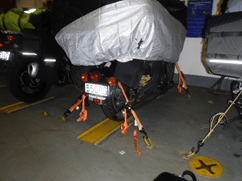 The Ferry crossing was one of the flattest crossings ever, but light rain was forecast in Wellington. I had my evening accommodation booked for Palmerston North, but along the way at Paraparumu I stopped to meet my old foreman whom I had never seen since I left Gormack Wilkes Davidson truck shop in November 1971. He made me very welcome and invited me to stay on my return travel.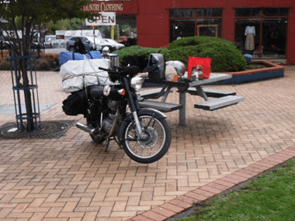 Another friend whom I had never met but also owns a Royal Enfield motor cycle, lives in Tokoroa, and offered me a bed for the night. So I departed Palmerston North bright and early and on the road around 8.45am. I headed toward Tokoroa via Kimbolton and the Mangaweka Gorge. It is a wonderful ride for a motor bike. The weather was threatening rain so I put on my rain suit, but it didn't come to anything. In Taihape it was brilliant sunny day so time the boil the billy in the town square and have a cuppa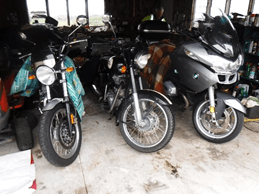 The weather turned for the worse as I left Waiuru after filling the tank, so again on with my wet skin, it was none too tropical either with snow laying each side of the road as I made my way through the Desert Road then the heavens opened up from Turangi to Tokoroa.
This day as I woke in Tokoroa was the 17th of October when I would meet up at Papamoa Beach camp with many other members of the Royal Enfield Register. Today was a beautiful sunny fine day so a very pleasant ride. There around 30 bikes and members, many of whom I had met before such as Terry from Matamata. We all enjoyed each other's tales of Royal Enfield young and old, both members and bikes. The oldest member being 83 so there is hope for me yet. The following day was a group ride to Whakatane and lake Rotoma before returning to Papamoa beach camp for a barbecue. Marlene flew up to Join me and to catch up on members of her own family who lives nearby.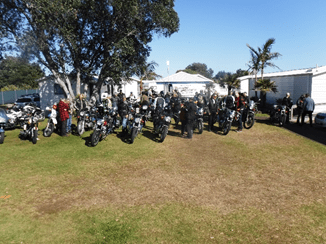 By Sunday morning it was time to say our goodbyes and head North but looking up old friends along the way one such friend and workmate from the 1980's at Omokoroa, then to Katikati to meet up with Marlene's Brother, then to Waihi to Meet Marlene's Cousin.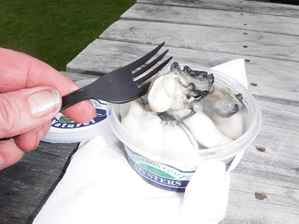 I then I rode on to Ngatea where I stayed with an old friend and tour driver from way back. Peter was a marvellous host, we could have enjoyed a lot more time together Still with brilliant weather, I rode via Miranda and Kawakawa bay where I bought some beautiful fresh oysters on my way to Auckland where I stayed with Marlene and her sister and husband.
This part of my travels was to spend a few days with Marlene who also visited her elderly Aunt and also another old friend who made us most welcome and treated us both to a wonderful evening dinner. We both knew Marg and Jim from when we lived in the Bay of Island in the 1980's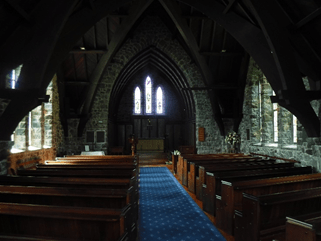 It was now Thursday 22nd Oct so time to head North via the North West Motorway then via Orewa (rather than via the tunnel). The riding was interesting with so much traffic on the old highway. In Whangarei, I accepted the hospitality of another friend with whom we have a common interest in encouraging better road safety. Thank you larry
It was familiar ground as I headed to Paihia to stay with another workmate, from yesteryear, Carlsen We worked together from around 1976 till 1989 working on both boats and buses one such boat I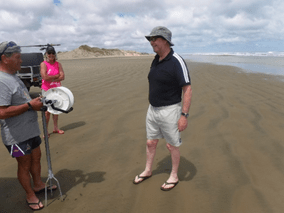 found a week later near Wellington in a decommissioned state. I visited the church where Marlene and I got married in 1986 Saint Pauls church (Henry Williams Memorial Church). Another friend I visited, we used to sail together, and her husband was very influential in my gaining my skippers tickets
After two nights with Carlsen, I headed North on a road which I drove almost daily from 1985 until 1989 but on a casual basis, I was heading to Cape Reinga but would stayed with Clyde and Muriel in Houhora, Clyde and Muriel are the other grandparents of our grandchildren. They were very hospitable with first fishing out on the 90 mile beach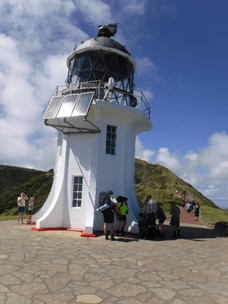 My next day taken me to Cape Reinga and to New Zealand's northernmost town of Te Hapua. A place I had never visited in the past. A short trip down the TePaki Stream and also help a group of Indian people get their 4 wheel drive unstuck from the quicksand
After a very large fish breakfast our fond farewells with Clyde and Muriel I headed South as the only direction one can go, but as the Mangamuka Gorge road was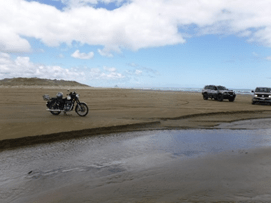 closed, I travelled via Ahipara, Herekino, Broadwood, to Kohukohu. As I drove to the ferry to cross to Rawene, they were just about too close the gate, but I was able to ride straight on, by the time I go to the other end of the ferry we were already out in the harbour on our way to Rawene. I rode via Opononi (famous for OPO the dolphin of the 1950's, The Waipua Forest and Trounson Kauri Park
I did not camp at Trounson Kauri park because there was no cell phone coverage and I couldn't do an online update. I thought it may be quite nice to listen to Kiwi calling during the night, but as I am asleep, I wouldn't hear anything, so Kai Iwi lakes seemed like the best option for camping. Warning if camping at Kai Iwi Lakes, 'close the tent as soon as erected' . Mosquitos love tents. Taken ages to eliminate the pesky blighters.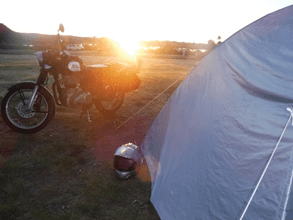 I travelled via Dargaville, through to Orewa, to Auckland to visit MOTAT. I was a little disappointed in MOTAT as much of it was closed. One individual working as a guide in one room (1960's cars) had no idea about the cars around her. She knew they were cars but that was about as much as she knew. I am pleased that with Super Gold Card that admission was free, as it was a little disappointing. The staff and the entrance was excellent and found me special parking for the mighty Royal Enfield.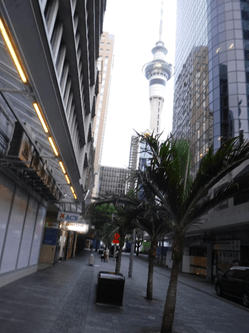 I stayed at a Backpackers in Auckland. It was centrally located, right in Queen St. While they had security card access, their security was rubbish. The rooms are very small with four people in them, the access to the very high top bunk is via a steel ladder up the end of the beds and over the toe board, and from there have to somehow make your own bed. Only one power point per room was also a challenge. However, that was not the worst part, at the main entrance off the street were all the drug dealers offering P and cheap cigarettes, possibly proceeds of crime. They also entered the hotel and hung around by the lifts on each floor.
Anyway, this day, I went to Waiheke Island. For Super Gold Card, with a $10.00 Auckland Transport metro card, one can travel on buses, trains and ferries for free between 9am and 3 pm so plenty of time to travel to the island and use the metro buses to go to most parts of the island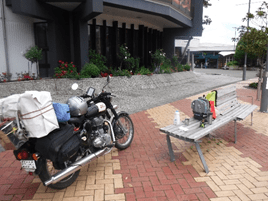 Another old friend whom I have known since the early 1990 is Gavin, who lives in Raglan, so from Auckland I headed first to Hamilton.
So as you see in the first pic, I set up in the town square just by their council chambers, boiled the billy to make a brew and have something to eat. I was just cleaning up when a gentleman came along, asked if I had eaten today, then, offered me a hot meal, we do this every Wednesday he told me. I felt rather honoured and humble. I now have a small insight into how the homeless feel.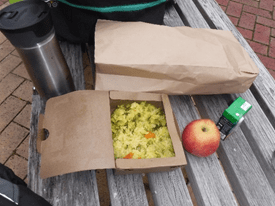 It is a short ride through to Raglan, a place I had never been to before, really enjoyed my time with Gavin as he showed me this beautiful place.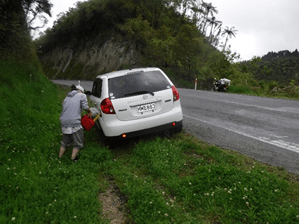 The weather was still fine with my planned ride to New Plymouth. It was a full day ride. Along the way about 50Kilometers out New Plymouth, I came by a car parked well of the road with its hazard lights on, on a tight and narrow winding piece of road. I stopped and discovered a young family with a very young baby, their car had run out of petrol and no cell phone coverage and the next petrol station was at least 20 kilometers further up the road. So I parked across the opposite side of the road where it was flat enough for me to park, and offered him spare petrol that I carry on board
We stopped at the next petrol station and he refilled my container.
The weather deteriorated when I left New Plymouth with very strong wind and threating heavy rain and rode around Mt Egmont (Mt Taranaki), but never really saw any sign of the mountain. I stayed with friends near Hawera with Trish and Chris, nice to have a day relaxing and sharing riding stories. And thank you for your hospitality.
I visited my Niece in Palmerston North and from there, the wind was very strong right though to Paraparaumu where I stayed two nights with Allan.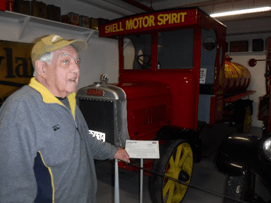 Allan was my Boss as workshop foreman from 1969 till 1971. I had not seen him since before this trip. Lots of time was spent reminiscing. Allan later worked for Shell Oil and discovered an early truck used by Shell. He was influential in getting the truck restored and it now stands at Southwards car museum at Paraparaumu
After thanking Allan for his hospitality and saying goodbye, I headed to Wellington via the Paekakariki Hill, which is a narrow and windy steep hill, great for motorbikes, but was still very wet. As I neared Upper Hutt, I came around a corner and there ahead of me was the old 'Tiger Lilly II' which I had worked on since she was new and did many trip on her up and down the Coast from Paihia. She is now decommissioned and in a poor condition, but this vessel we had our wedding on board so holds a special place in my heart
I stayed with our daughter Suzanne in Wellington before crossing over on even flatter seas.
I stayed a night in Blenheim before heading toward Christchurch via Kaikoura. There were many road works still finishing the reconstruction of the road following the major earthquakes which raised the beaches by several meters. Each road works was around 20 min stoppage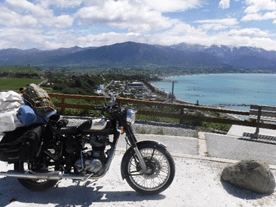 After 5 hours of riding I was in Christchurch to stay with our son Alistair and his wife. I had two parties to go to on the Saturday night, so it was a good chance to catch up with other friends around Ch-ch. The weather had been stinking hot up until sat afternoon. Then the rain set in and by Sunday morning was strong wind and heavy rain which persisted right through almost to Timaru. The strong wind was some of the most challenging I have ever endured but with my rain skin on, I didn't get wet. Eventually I arrived in Oamaru to help my sister move into her new house. After two days of sweat and toil, it was on the road again to Dunedin, still a lot of wind but no rain, I stayed with my sister whose husband is not very well, so this is part of the reason for extending my tour South again. With so many who are unwell, (two brothers in law and one niece) I would much rather go to the trouble of visiting everyone while they are still with us, but also as we are ageing, I like to catch up with my four sisters.
My next sister to visit and stay with was in Edendale, but as she was at work, I popped down to Bluff to take some obligatory pics to show I had completed one end of New Zealand to the other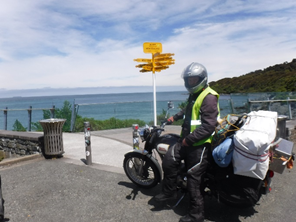 I stayed in Edendale, but could not see my brother in law as he was feeling unwell. I was disappointed having gone to so much effort to see him. I helped Angela to clean her cars which was a job she had to fit in with her busy schedule. All the friends and family I have stayed with have been wonderful hosts and Angela was no exception with a full roast meal and fine wine.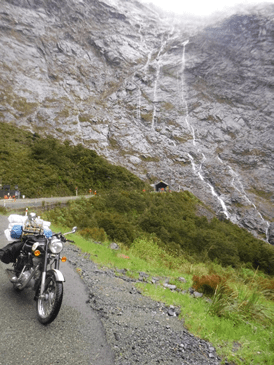 I went to Sandy Point to see my 'elderly' cousin and her 'elderly' husband also my young nephew in Otatara nearby, before heading to Riverton to stay with my sister and help her out with a couple of jobs around her property.
The weather was still looking a wee bit dodgy, but that didn't deter my enthusiasm to venture into Milford Sound. While I have driven buses into Milford Sound many times and I do know the road quite well, I have never ridden a motorcycle in and out. I was prepared for heavy rain, and it rained on the way in, but cleared up on my way out so I was able to get some better pics.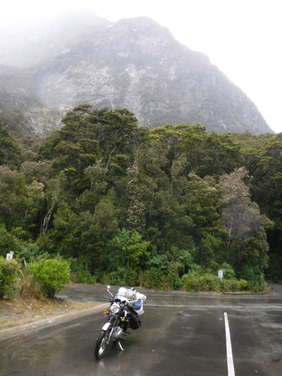 After one night in Te Anau, it was a full day riding in store. First Te Anau to Wanaka where I stooped for a rest, boiled the billy and continued on to Haast. The forecast was with a heavy rain warning on the Coast, however I was pleasantly surprised that by the time I got to Haast, there was still no rain, just brilliant sunshine, so I taken another planned detour and rode through to Jackson Bay and back to Haast.
Following overnight rain the weather was threatening rain but failed to materialize which gave me a clear run back to Greymouth and arrived home 5 weeks to the day.
I was also pleasantly surprised to find that my lawns had be mowed by my kind neighbour, thank you Sylvia
I have deliberately only identified people by their first name so as to offer a little privacy
The highlights of my travels have been the long lost friends I have met up with while there are far too many friends and acquaintances to mention them all, but I would like to mention two in particular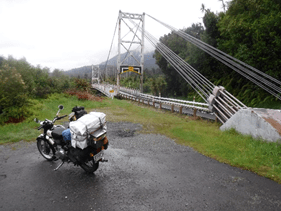 One friend goes back as far 1971 when I last saw him, that is Allan Poy who was my first ever boss, he was the foreman when I was an apprentice motor mechanic in Invercargill. I met up with Alan at his home in Paraparaumu, who then offered me a bed on my return
In the Bay of Islands, Bay of Islands I stayed with Carlsen Orr, we worked together from around 1976 until 1989. He was a very strong influence to me with very strong work ethics. I stayed with Carlsen and his wife for two nights and caught up with other old friends whilst there.