McGarry's India Trip 2019
I read Steve Krzystyniak's book "Bitten by the Bullet" years ago in Invercargill and added it to my Bucket List.
At the time I had a 1954 350cc single that was an absolute dog of a bike. Many had tried and failed to get it running and stay running. It was never anything small, always a conrod or piston or other major failures, but I digress.
The date finally arrived. October 2019 and for my 60th birthday my wife and I headed off to Delhi via Singapore to start the trip.
The days of us flying direct to the other side of the world are over; so we stopped off at Singapore to recharge our batteries then the following day continued to New Delhi.
We were met at the airport by Kamal our tour leader, unbeknown to us Steve would NOT be accompanying this trip.
Kamal introduced us in turn to Sanjeev who was to be our backup driver for the duration. He also assisted by procuring water and sometimes food (with Imran the mechanic).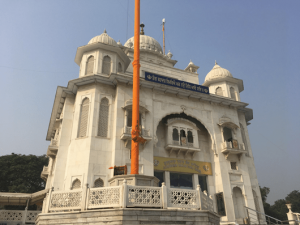 Indian culture forbids employing one person where you could two or more, so our tour driver, couldn't be our tour leader or mechanic.
We went to a Sikh Temple Gurdwara Sri Rakab Ganj Sahib – Reasons or explanations before any event occurred were few and far apart. There we met Lalli Singh the owner of the Motorbikes that we would be renting and an old friend of Steve's from the beginning. He supplied us with Chai (with and without sugar) and Coffee in flasks, then we were introduced to another person who would be arranging our cash transfers from whatever we had into rupees.
Next we were treated to a conducted tour of the Temple that was built on the site of the martyrdom of a Sikh Sri Guru Tegbahdur Ji at the hands of the Moghuls.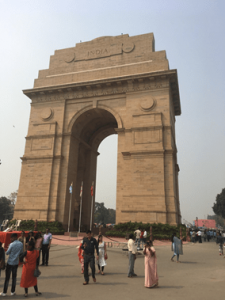 Kamal and Sanjeev then took us on a tiki-tour around Delhi and we had our first meal together in the suburb of Karol Bagh.
We also visited India Gate and a few of the important buildings and sights that tourists are wont to see.
Next we loaded all our baggage onto Sanjeev's bus at a train station where we left in airconditioned comfort to the destination of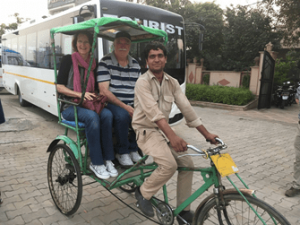 Bharatpur where on arrival at our hotel we were introduced to our Bullets.
A very early start in the morning found us in a fleet of ancient tricycles some resplendent with ancient "jockeys" (one was 80 years young).
This procession took us to a bird sanctuary where we saw an impressive array of birds from Kingfishers to an Eagle. I wasn't too fussed when the trip was mooted, but I must admit that I did enjoy it.
We then were returned to the hotel for a brunch which was very well received. We were advised to tip our respective tricycles but no indication was given as to what sort of amount would be appropriate. Our jet lag and confusion towards the unfamiliar currency resulted in us giving what probably amounted to several months' salary to our guide who embarrassed us by then insisting on getting down on his knees and kissing our feet…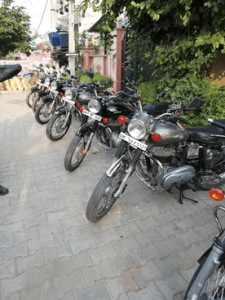 Then we were finally "allowed" to try out our steeds. Most people were just riding up and down the street in front of the hotel but I went around the block a couple of times more worried about the traffic that I might encounter than the operation of an unfamiliar machine.
Of course, she was fine. Our next agenda item was a visit to the first of many palaces at a place called Deeg; very interesting and a good shakedown to see the abilities of our fellow riders. The blurb supplied prior to departure suggested that it wasn't a trip for the novice rider, but you can only take people on what they tell you and you can't account for stupid.
Light was failing on our return and we had to pass through the middle of a village which was having a market and all goods and services were sprawled on both sides of the very narrow street which also had to accommodate us riders along with cows, goats, feral pigs, TukTuk drivers, buses, trucks and the shopping populace at large.
With ferocious use of our horns we got through it, an important lesson for us about navigating when virtually no one has right of way, just keep flowing and making allowances where necessary.
During our debrief that evening Mark told us "I put my foot down, and there was a kid under it!"
The next day we were off on a long run to Agra to see the ubiquitous "Taj Mahal". Great ride to get there even stopping at a goat market en route. I had the chance to observe at close quarters the steed of choice for most Indians; the 110cc Hero Honda. Several of the ones here had 'goat panniers' attached to bring home their purchases from the market. There was also a slimy dirty creek running by, where the locals had erected some of their god effigies in the midst of, probably to ward off dysentery…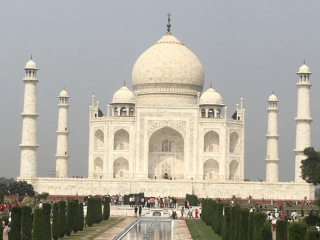 The Taj Mahal was astounding and well attended by visitors both local (entry fee around 20 rupees) and foreigners (entry fee 500 rupees). Once more we had to have another appointed guide probably a Muslim instead of our 'inferior' Hindu guides.
We lost John on the way, but he managed to get there by using sign language and asking "Taj Mahal?" and simply following the pointing fingers.
We also had a meal in a cafe under the walls surrounding the ediface where when they painted the floor pink, they painted everything else the same way. Afterwards we had parked the bikes at the East Gate and vacated via the West or vice versa I can't remember, but then had the first of many mad tuk tuk rides back to where the bikes were.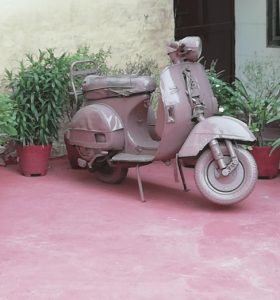 Next morning was another early start we were off to Rantambhore with the prospect of seeing some real tigers! Spoiler alert if there ARE tigers there, then their camouflage is superb! John renamed it the 'deer sanctuary' as at least we got to see them.
Another brunch followed this early morning start and we had a bit of a look around the local village before having a meal in a (dry) restaurant that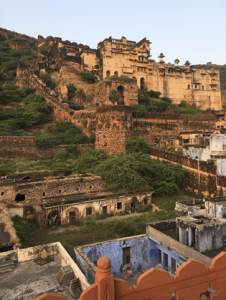 evening.
Then we were off again this time to Bundi where we were to spend a couple of nights. We were in a Haveli that had a rooftop 'restaurant' where most of our meals were served and we had preprandial drinks whilst watching the sunset and flocks of thousands of bats fly out of the impressive castle on the hillside then return an hour or so later.
Bundi is famous for it's step wells but unfortunately for us they had just had a record monsoon season so they were all full to brimming leaving not a lot of the architecture on display.
If you have read Steve's book this was the place where an artist painted the title page image of an idealised Steve and Lily as a Maharajah and Maharani astride their bullet.
We had been acclimatising to the instant coffee that was served everywhere but here in Bundi a real treat – Espresso!
Once more we were off this time to Indegarh Fort. "Garh" in Hindi means Fort, so Indefort fort for the pedants amongst you.
Next, we visited the home of some more of Steve and Lily's friends as they had the keys to the fort so, whilst menfolk showed us around, at least three generations of the women made us a rice meal which was very well received. Then, of course, we had dozens of Selfies with them in their lovely home.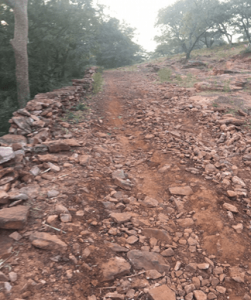 Back on the bikes and to Pangarh Lake where we were to do some glamping. Somehow Kamal's GPS deviated onto a route that the backup van managed to avoid and we had an interesting test of our bike handling skills across a 'road' that apparently had just be dynamited out of the surrounding rock. Only one minor mishap where a rider went down spilling his pillion and removing both indicators and a footrest from one side of the bike. Thankfully pride was more injured than anything else. I opted to let Carol get off and in the Indian heat in full motorcycle protective gear walk about 300 meters to a safe point so that if the bike went down it would only harm me.
I vowed years ago never again to spend the night under canvas, but a concrete-floored tent with airconditioning, Wi-Fi, a toilet and shower ensuite I could (and did) endure. Another alfresco meal by the lakeside watching the sunset was spectacular.
The next day we were off again this time the ride was very short. So short I think that most of us thought that we were stopping for chai rather than residing here overnight. Another fabulous hotel, another Alfresco meal, and this time the bar also had Gin and other spirits as well as the usual Kingfisher Beer.
The premeal drinks were accompanied by a "band". I'm afraid that they weren't to our tastes in music but seemed to be enjoying themselves.
The next day we were off again easily avoiding the terror road of the day before. We then went to Udaipur another lovely haveli next to a vast lake. Lots of shopping done here for momentos, clothing, wraps, cushions, etc and a visit to the local Palace. This one was unique in that it was being restored to it's former glory by the owners; so much of the Indian history is just abandoned and left to rot in the unforgiving elements.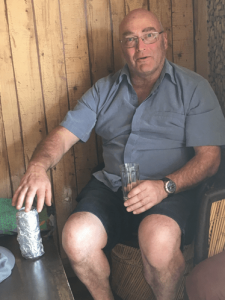 We also went on a boat trip to an island in the lake which was the former region's palace. We were treated to a "free" night and I managed to find a "Spanish" café called Hola! in a hotel not too far from where we were staying. We had a kind of tapas meal there and then got a tuk-tuk back to our hotel. This was the smallest vehicle I'd ever been in and I had to duck really low to see any kind of a view.
After a few days there we were off again. On one valley side we looked across and saw a very impressive fortress on the opposite side. Next thing we were in it, riding around the perimeter. It was called Chittorgarh and within the walls has some incredible monuments and temples that have witnessed some horrifying events. The least of which wasn't the Jauhaur Monument which was built to the memory of some perhaps thousands (accounts vary) of women and children immolated themselves rather than falling into the hands of their enemies in the 14th century.
We didn't spend the night here but continued towards our next stop at Pushkar. Pushkar is renowned as the largest Camel market in India and it also has a vaguely hippie theme with Haveli's called the Pink Floyd etc.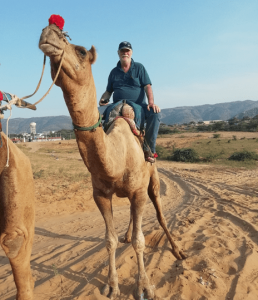 It also is considered a "holy city" and due to this status most places observe traditions of not serving eggs or alcohol, although for the life of me I can't see the connection? Outsiders have infiltrated and we did manage to find a German managed establishment that served Kingfisher wrapped in tinfoil so that the gods or whoever couldn't be offended…
Our nights here were punctuated by Divalli 'celebrations' which consist of relentless firework explosions. Not the colourful spectacle you might observe elsewhere; but more like saboteur attacks on the unwitting. Not many of us got a good sleep that night. Even assisted by god defying tinfoil coated drinks.
Got talking to one young man who was the proud owner of a Ducati motorbike. He informed us that the import tax on such a machine was in the region of 300% so a thirty grand two wheeler would have set him back nearly $100,000 – any takers? Hero Hondas change hands new for about $350 NZ less than half of a 350cc Enfield. 500cc's are very hard to come by.
Ever onwards this time to Jaipur where we were to say goodbye to our steeds as they were to be transported the remaining 200 odd K's to Delhi for the next lot of hirees.
Jaipur was nice and a highlight here was that we actually managed to get up close and personal with- Elephants! The mahouts were very demanding about tips for taking photos or anything to do with them, but I wouldn't want to try to feed one for a week.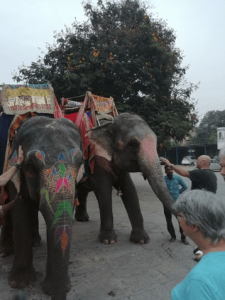 We managed to do some man shopping here where a cobber and I went to the market and returned with a brand new muffler for hi
s veteran Indian motorcycle. I was really surprised by the complete lack of Royal Enfield tat. I had wanted to buy a shed load and distribute it with friends and fans alike, but it is in very short supply in Rajahstan.
So that only left the final minibus ride back to Delhi. I had contacted Lalli Singh looking for some Enfield parts to return with but had got our wires crossed somehow. He didn't disappoint me though and sent Imran to collect me, take my "shopping list", and deliver me back to our hotel after the list had been filled and delivered there. Indian prices for a back rack, a 19 tooth front sprocket, and two battery covers for myself and another friend came to around $37 NZ. You may see why I didn't want to pay H!tchc0ck's prices.
Trip of a lifetime? Certainly? Would I repeat it? No, but I might be interested in doing the South Indian trip around Kerala. Time will tell. Once this CoVid-19 Pandemic is over and things get a bit more settled the pipe dream is to do the Spanish Tour of Andalucia
Mac McGarry