"The Journey"…that's the great thing about going somewhere new. Well I had been to Gisborne once before, but never on a motorbike and so wanted to look for some interesting routes to take when travelling to the 2020 Gisborne Royal Enfield rally.
From Eltham, South Taranaki I decided I would go to Gisborne via Napier exploring the "Gentle Annie" route, and then on the way back travel up around East Cape before heading home via Taupo, Taumaranui, and the Forgotten Highway.

Two parts of the trip to Napier were really interesting. The first being the route to Hunterville from Whanganui. It involves travelling right through the centre of the town of Whanganui, across the old bridge, left, and then up the hill using Portal Street which passes close to the Durie Hill Memorial Tower and onto No 2 Line which takes you to Fordell …a strange name for a road I know. From there a few more kilometres takes you to the intersection of Kauangaroa and Mangamahu Roads. Choosing the left turn onto Mangamahu Road eventually takes you to Hunterville and State Highway 1. This route was suggested to me by Steve the mechanic at Colton Motors (Royal Enfield dealers) in Hawera and it turned out be a really great ride! Very little traffic and mostly two lane its a windy but sealed road that takes you through rolling hills and pleasant scenery. A large number of mountain bikers were passed, obviously a popular ride for them as well.Hunterville was a pleasant surprise, a great little cafe, and believe it or not a motorbike accessory shop… with lots of cool stuff. Apparently a popular ride for the tar-seal mob on the weekends. There is also a gas station but thought I'd wait till I reached Taihape which is a little way up State Highway 1 and the turn off point for the "Gentle Annie".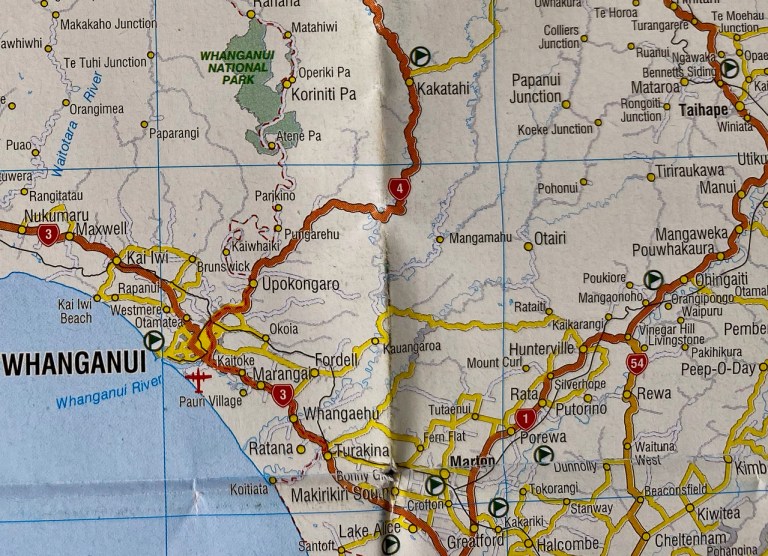 Filled up on the outskirts of Taihape after 220km and then straight through the town, not turning to the left to follow State Highway 1, takes you through to the Te Moehau Junction. Turning right you follow the Taihape Napier Road, or what's known as the "Gentle Annie" through to Napier. This is a spectacular ride that takes you over the Otupae Range near to Te Tuiokanawha at 1060 metres above sea level. The route was ridden under overcast skies but near the top I went into cloud, at first drizzle, then a steady rain, so missed what must be spectacular views, so I am going to have to ride it again in clear weather some time.
The trip down from the pass to Napier was ok but nothing like the climb up from Taihape.
I arrived in Napier just before 4pm having ridden 373km so called it a day, found a cabin and a good pub for a meal.
Next Day was the 215km ride to Gisborne, it was quite wet so not a great deal write about arriving at the motor camp around lunchtime and catching up with Mal and Brian, and the brewery around the corner. Enjoyed meeting up with others on the Saturday, the short ride, AGM, beers and evening meal which was the 2020 rally organised by Steve Lawrence. Thanks Steve.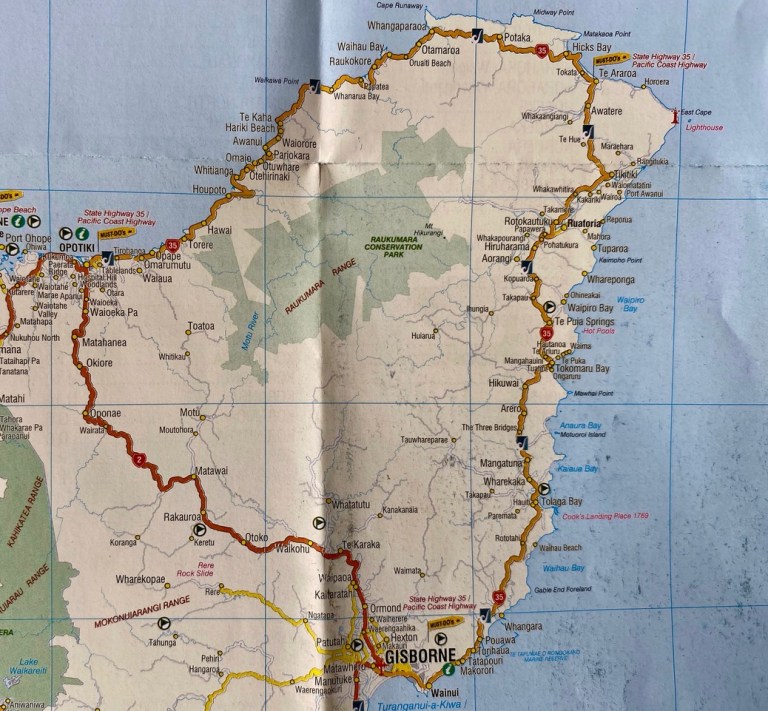 Sunday saw me up before 6am, and after filling up, was on the road before sunrise heading towards Tolaga Bay. Arrived there just as the sun came through the clouds hitting the northern end of the bay. With many beautiful bays before and after Tolaga I passed through small towns mostly still asleep on the way to Te Araroa. Here I took a small detour of 20km out to the lighthouse at East Cape. This was mostly on gravel road following a very spectacular coastline. The lighthouse was up on a hill, not quite what I'd expected and wasn't really keen on trudging up the hill in bike gear.
Back in Te Araroa I filled up after 200km at the local self service. I had been worried about the lack of fuel around the cape and carried an extra 5 litres with me but this was not necessary as there seemed to be a number of fuel stops along the way.

From here the road travels a little inland before hitting the coast agin at Whangaparaoa Bay near Cape Runaway.Heading down the coast I stopped in Te Kaha for a "fisherman's basket" lunch. A beautiful view from the pub out into a bay full of boats.From here it was again bay after bay and beautiful sunshine all the way to Opotiki arriving around 2:30pm.At this point I made the decision to head for Taupo so as to make the final day back to Eltham an easy one.
I spent a beautiful yet pretty tired evening on the Lake Taupo waterfront at Lonestar restaurant, and a very small but expensive cabin at the campgrounds having covered around 575 km.
Next day I was up early again and a 115km trip through to Taumaranui for another fuel top up and bacon and egg pie fro breakfast around 9am.From here I was on very familiar ground having travelled up the Forgotten Highway a number of times for a lunchtime curry. A wet morning but through the Tangarakau Gorge, Whangamomona and onto Eltham by Lunchtime ended my trip of 1443 km on my Royal Enfield Himalayan.
A great ride and recommended to all even if there is no rally to attend.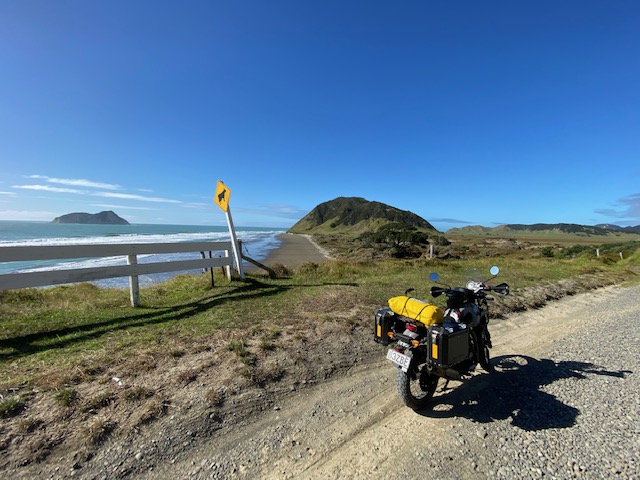 Thanks – Mark Bellringer