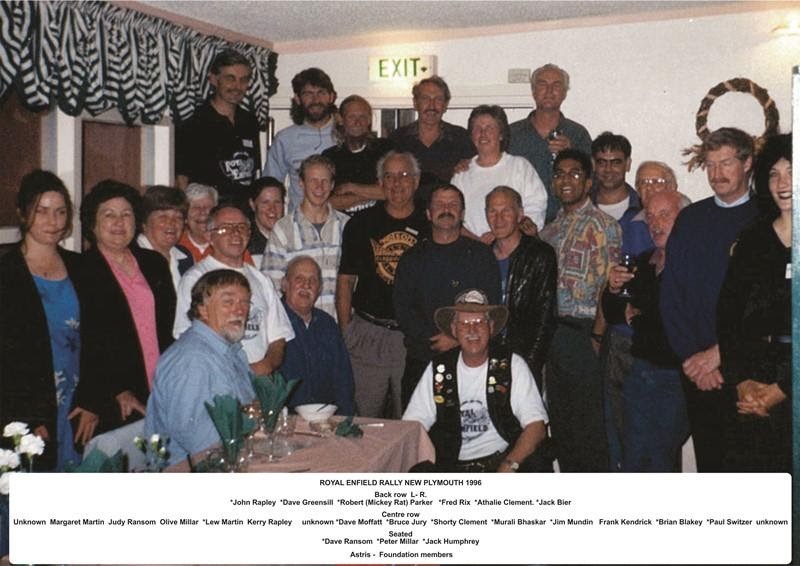 Pre 1996, I had been saying for some time to Shorty Clement, Bruce Jury & Dave Ransome all with (British) Royal Enfields other than Murali Bhaskar with his Madras Enfield.
We should organize a RE rally, you know, there's a BSA rally, Norton rally, Triumph rally etc all happening. We should get off our butt and do something about it. 
So we did. 
We knew of several RE owners scattered about NZ. IE. Jack Humphrey in PN. Jack Bier and Dave Moffatt both in Nelson. John Rapley in Paraparaumu, Paul Switzer in Wellington, Jim Mundin in Tokoroa, Brian Blakeley in Paekakariki, Peter Millar in Wellington, Fed Rix in Huntly & Mickey Rat in Waihi
1996 Along with the locals Athalie Clement, Dave Ransom, Bruce Jury, Shorty Clement, Murali Bhaskar, David Greensill we invited the out of town-ers to attend a RE rally. They duly turn up on their bikes other than Jack who drove his RE powered Berkeley sports car from Nelson to the first RE rally held in New Plymouth.
After an afternoon ride out a meeting was held attended by the seven locals and 10 visitors, the NZREOR was formed with 17 founding members
Lew Martin
BECOME A PART OF
OUR FAMILY